Lenovo D3284 Direct Attached Storage
Lenovo D3284 Direct Attached Storage - PRICE | REVIEW | SPECIFICATION | HYDERABAD | CHENNAI | TELANGANA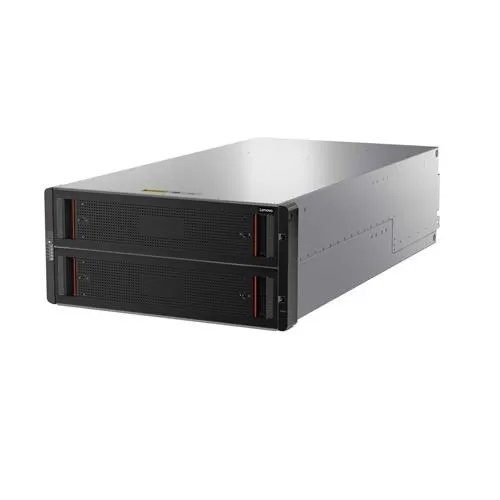 ---

Lenovo D3284 Direct Attached Storage - Offer Price
Call for Best Price
---
Product Description
---
Flexible Storage Platform

Affordable high-density storage
Works as server storage
Attach to multiple hosts
Chain multiple enclosures together
Ideal for medium/large enterprise/HPC/Cloud DC




Features

Highlights

5U enclosure
Dual 12Gb SAS ESMs per enclosure
3 universal 4x 12Gb mini-SAS HD connectors per enclosure
Up to 84 3.5-inch drives per enclosure
Daisy-chain 4 enclosures for up to 336 drives
Direct-attach server storage (JBOD)
Use a combination of high-capacity NL-SAS drives and high-IOPS/low-latency SSDs in the same enclosure
Perfect for HPC
Tier-3 Cloud data centers
and medium-to-large enterprise data centers
Hot-swappable components: all drives
2x ESMs
5x fans
2x 80 Plus Platinum power supplies
Compatible with all Lenovo ThinkServer and System x servers†




Mega Storage at a Great Price

The Lenovo Storage D3284 delivers high-density direct-attach storage. It supports mixing-and-matching different drive types for high performance

high capacity
or a combination of the two. Affordable high-density options
combining 7
200rpm NL-SAS hard disk drives (HDDs) with high-IOPS/low-latency SAS solid-state drives (SSDs)
enable a multitiered storage infrastructure in a single enclosure or daisy-chain. It supports up to 4 enclosures in a single chain. Chains can be connected to up to three servers.




Affordable
High-Capacity
Flexible Storage

High-capacity 3.5-inch NL-SAS drives offer up to 840TB of "cold" or archive storage in only 5U (that's 1.5x the capacity of the HP D6000*)
and up to 3.36PB in 20U
using four daisy-chained enclosures.
SSDs (33.6TB/134.4TB) provide the extreme throughput necessary for the most I/O-intensive jobs
such as HPC
high-frequency trading (HFT)
and caching. With up to 84 drives per enclosure and 336 per daisy-chain
there is plenty of room for multitiered drive types.




High Availability
High Density

Hot-swap redundant components
including dual ESMs
dual 80 Plus Platinum power supplies
and five fans
provide the high availability needed for a high-density storage platform.
D3284 is a key component of the Lenovo GPFS Storage Server and Lenovo Storage DX8200N Powered by NexentaStor.
The high-density enclosure uses 1/3 less rack space than the equivalent number of drives in traditional 2U enclosures and fits in 1m deep racks
so it works with existing infrastructures. * As of this publication date.
---